Last Sunday I visited the Nordic Travel Fair in Helsinki (held in the Helsinki Fair Center, which is literally next door to my apartment) and as usual came home with a big pile of brochures, many of them for cruise lines and/or ferry operators. Although I must say this year's haul was not as big as on some prevous occasions, most notably Carnival Corporation & plc's brands were conspicuously absent and the only material for them was from Finnish travel agencies that sell their cruises. (I guess I should apologise here is this entry is ramblish - I fear i'm coming down with a flu which might have an effect on the clarity of my writing).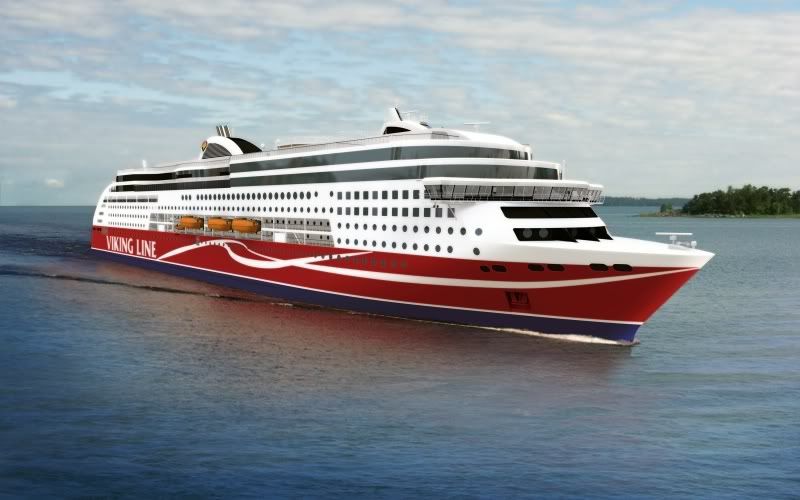 Viking Line's upcoming ship has a brilliant website, but no marketing material at the travel fair. As a side note, I proposed Laurella as a name for the ship - the most popular suggestion in the naming competition was Daniella, so it seems we might be getting another traditional -Ella name. Image copyright Viking Line.
Now, several days after the fair I've finally waded through all the material. One clear disappointment when it comes to printed material was Viking Line. Their brocure for this spring was just eight pages and most importantly next to no information about their as-of-yet-unnamed LNG-powered Turku-Stockholm ferry due for delivery in almost exactly 12 months. Of course paper brochures are almost completely superfluous in this digital day and age - except if you want to archive them. A website will change and information be lost forever, but a printed brochure will remain. Also, all Viking's competitors had notably more substantial brochures, even Eckerö Line had dozens of pages despite the fact they were in essence advertizing just one ship.
What really stroke me as interesting when reading through my haul was how the way a brochure is written and how it represents a company effects the reader. This is of course not a surprise as such - the brochures are meant as promotional material after all. But what is interesting is that a brochure can have the
exact opposite
effect from what was intended. I've experienced this before when I first laid my eyes on a Royal Caribbean International brochure. I did not have any particular preconceptions about the company (I liked the fact their major ships were built in Finland, but I'm not fond of the horizontal atrium arrangement), but what the brochure did was make me
not
want to sail on them.
The Celebrity Constellation seemed far more appealing before I read Celebrity Cruises' brochure. More images of the ship here.
This time the same thing happened to me with a Celebrity Cruises brochure. Now with Celebrity I did have preconceptions - strongly positive ones. From what I have read and heard from other people, they seem like a cruise line defiantely worth checking out, and I was in fact strongly considering taking my next cruise on them. But the brochure painted the company in a completely different light from what my preconceptions were - it was all hyperbole and brashness in place of the sophistication I've come to expect. The overall impression was repugnant rather than appealing.
Kristina Cruises - interesting itineraries for a relatively cheap price. But is the onboard product appealing for someone like me? Based on my impressions from various sources the ansver is "no".
On the other side of things, what majorly surprised me was how appealing the Finnish cruise line Kristina Cruises managed to make their product in their brochures. From all that I have heard the company is aimed for elderly Finns and in all probability it will absolutely not be my kind of a thing. Yet in the brochure they managed to make their onboard product rather appealing. But perhaps the most important thing were the itineraries. When I look at the itineraries of most cruise lines (particularly their european itineraries) I find myself thinking "boring, boring, boring, maybe, boring". With Kristina Cruises it was more like "Ooo, an interesting Black Sea cruise! Ooo, an interesting West Africa cruise! Ooo, an interesting Scottish Isles cruise!" and even "Ooo, an interesting Baltic Sea cruise!".
I guess with Kristina Cruises I'll do the thing I planned on earlier already: take a short (three- or four-night) Baltic Sea cruise during the summer to check out the onboard product. If it's good I'll definately think about trying one of the more interesting cruises outside the Baltic. Celebrity poses an more difficult problem: is my previous conception correct, or was I just hoping for it to be "my kind of cruise line" like I did with MSC Cruises? Since what I'm primarily planning on doing with Celebrity is a two-week Caribbean cruise, I'd hate to find out the company was really exactly like their brochure indicated.