I felt this subject is too important to pass. Tomorrow,
Viking Line
will be announcing the name of their new LNG-powered ferry that will be delivered in January 2013 and will replace the
Isabella
on the Turku-Stockholm run.* Today, Viking Line announced the top eight finalists of the naming competition, from which the final name will be revealed tomorrow. The finalists are (and I swear I'm not making these up):
Viking Joy
SeaMore
XLNT
(presumably
Viking XLNT
, but it was listed without a prefix)
Adamas
Calista
Viking Grace
Finella
Viking Nova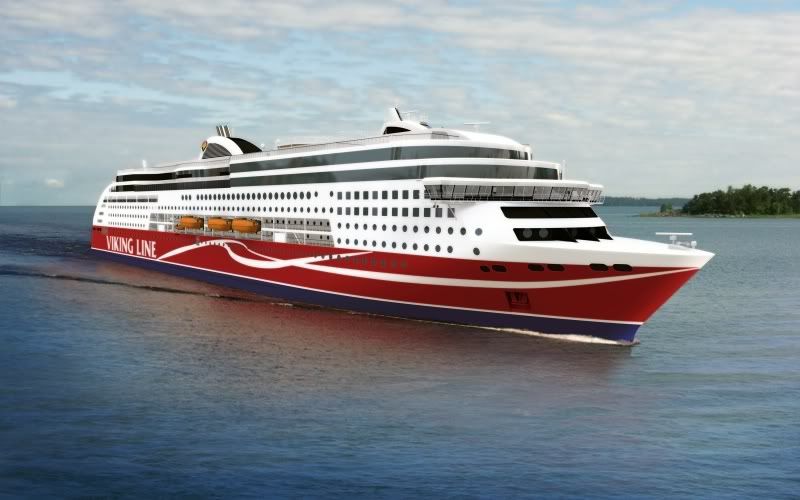 Does this ship really look like Adamas or Calista to you? Photo copyright Viking Line.
I'm sorry but what drugs are the people in Mariehamn on? According to the
new ship's website
, they got 9 900 unique proposals. And, thanks to the website and other sources we know these included such fine names as
Daniella, Passionella, Fortunella**
and
Laurella
(the lattest being my own proposal, alongside
Viking RLXN
, pronounced "Viking Relaxing", which I admit was quite rubbish) and yet they ended up with these eight. No disrespect to anyone who entered these proposals but in my opinion they are rubbish.
Viking Joy
is boring,
SeaMore
is a terrible pun (that doesn't even work when written in ALL CAPS, which is probably how the name will appear in most material),
Adamas
... I don't even know what that means (unless it's a Battlestar Galactica reference and if so it's completely unsuitable for a cruise ship), Calista is OK but boring,
Viking Grace
has an unnescessary religious tangent,
Finella
has a nice double meaning (fin = beautiful or fine in Swedish and of crouse a reference to Finland) but it sounds like a 1970s Viking Line name, can be confused for a Finnlines' ship name and is a bit boring.
Viking Nova
will be outdated as a name as soon as Viking build another new ship and for Finns it associated with Radio Nova, a rather craptastic radio station playing mainstream pop and rock.
The only name out of these I think would be acceptable is
Viking XLNT
(presumably pronounced "Viking Excellent", just as
Viking XPRS
is pronounced "Viking Express") - except for the fact XLNT is the name of clothes brand for "big girls" by KappAhl. Viking Line, you still have time to look at the other proposals and select a name that will actually look and sound good. Like
Passionella
.
* = According to what I have heard the future of the
Isabella
after the delivery of the new ship will be decided later this year.
* = As an interesting detail, the 1970s/80s Rederi AB Slite -owned Viking Line cruise ship
Apollo III
was originally to be named
Fortuna
(and appeared under that name in early VL marketing material). Naming the new ship
Fortunella
would be like getting the ship they naver had.